As we get going with the 4th issue of Volume 2 of the Classroom Chronicles, what excites and backs us is the immense zeal and liveliness the senior students of Sherwood and Heritage have been filling the school campuses with.
We continue in our endeavor to bring out not only the creative and thoughtful side of the young, gifted souls but also the happenings in school through the Newsletter. Hope you enjoy and appreciate this edition too as much as the earlier editions !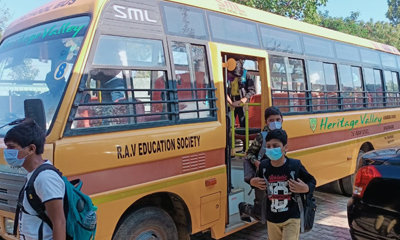 8th November was another special day in the history of our schools. This November morning was entirely different, when our dear children of Class VI to VIII were back to school after eighteen long months of the pandemic. There was excitement in the air. The campus was enthused with life. Getting back to school was probably never this eventful and relieving. It was entirely a new environment with the students following social distancing, wearing face masks and going in for the temperature checks.They walked towards their classrooms with excitement, their beamy eyes looking for their friends, classmates and teachers.
The day was lined with lot of activities to ease the students and acclimatize them into the school environment once again. We left no stones unturned making the assembly hall, playground, art room, music room, laboratories, everything lively.
Words can't describe the emotions when the prayer was echoed in the assembly hall in the voice of these little Sherwoodians. The formal assembly boosted with the presence of our Director sir and senior teachers set the tempo for the day.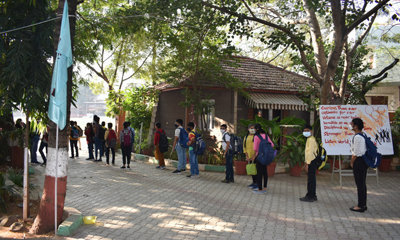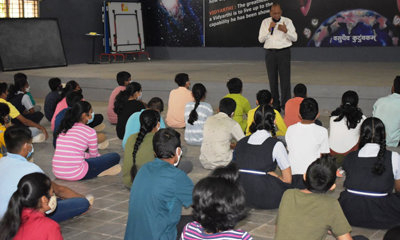 Restricted to the four walls of their houses the young hearts who were craving for their natural needs, had a sigh of relief, when they were left free on the playground. Their excitement were out of bounds, when they were given the freedom to explore the playground on the Reopening Day itself.
The following days witnessed children with their peers delving into the mystery of subjects through lab activities and discovering themselves by actively participating in the Co-Curricular Activities.
The children also celebrated the much missed Children's Day physically with fun ,frolic and laughter enjoying the games on the playground. Watch out for details in the next issue !!
Childhood remains incomplete without school. Let us leave behind the tough times and move ahead prepping up to soon bring the little Sherwoodians of Akshar and Primary Wing to explore and enjoy the school life to the fullest and making them happy campers in our school. As Sherwood believes "Tough times never last, tough people do".